Ironman Champions
See a list of past Ironman Outdoor Curling champions
The following teams have outlast everyone to win the Ironman Curling Championship trophy. The winning teams have to go undefeated over six or seven games depending on the number of teams entered. Congratulations to all of our champions. Will your team be the next team to hoist the trophy? Ironman Champions also win custom made Dynasty Curling Apparel jackets valued at over $800.00.  Winning the best outdoor curling in the world, priceless.
2022
Hack Job carry the title forward.  No playoffs due to Pandemic rules.   Champions for another year so goes the legends.
2021
Four!
Legend has it – 2 Teams in the practice division.  Four! won 1 game lasting 2 ends (4 to 1) against the Fort Garry Dark Knights and stayed to drink the longest in the cold -40 Celsius.   First time back on the river in the coldest temperatures in the history of the bonspiel. Great way to celebrate Manitoba 150.  No official prizes for practice winners.
Kelly Kiddell
Karleigh Philpott
Aimee West
Ewelina Fiedur
2020
Hack Job
56 Teams in the Championship division.  Hack Job won 6 games and last game won in extra end.  First time event held on land as part of Manitoba 150 celebrations.
Travis Almey
Sarah Lefebvre
Lauren Canning
Dave Van Drongelen
2019
I swept with your wife…


Brent Farguson
Jack Lavallee
Brian Melville
Glenn Henderson
2018
I swept with your wife…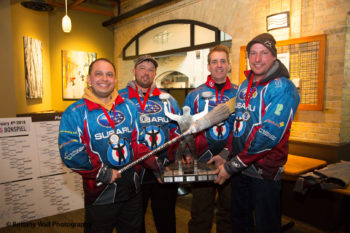 Brent Farguson
Jack Lavallee
Brian Melville
Glenn Henderson
2017
Old Cold and on the Rocks
2016
Winnipleg Brew Birfs
Colin Kurz
Scott Kurz
Melissa Gordon
2015
#KimMitchellGreyCup2015
Bradley Hunt
Brian Forrester
Angela Green
Tyler Green
2014
Old Cold and On The Rocks

Bob Petri
Jeff Goertzen
Darren Goertzen
Tim Jonstrud
2013
Drawson

Eric Dawson
Kent Hay
Gordon Craig
Derek Haywood
2012
That Symbol That Price Was For A Bit In the 90's
Brian Forrester
Bradley Hunt
Angela Hunt
Jeff Blonjeaux
2011
Bratwurst & Donut Combo
Chris Gesell
Anders Prokopowhich
Rick Romaniuk
Rene Hiebert
2010
The Hoovers
Chris Chimuk
David Stastook
Bryan Zachary
Don Hunt
2009
The Hoovers
Chris Chimuk
David Stastook
Bryan Zachary
Don Hunt
2008
The Hoovers
Chris Chimuk
David Stastook
Bryan Zachary
Don Hunt
2007
Drawson
Fred Klatt
Kent Hay
Eric Dawson
Gord Craig
2006
Rob Sendall
Rob Sendall
Dean Sisler
Jeff Sendall
Steve Sendall
Kevin Sendall
2005
Scooby Doo & the Gang
David Ellie
John Blakeston
Don Myers
Garry Parker
2004
Leckie Rink
Scott Leckie
Fred Klatt
Alan Dalkie
Don Gaye
Greg Harris
2003
Dahl Rink
Lindsey Dahl
Kara Isaak
Terry Isaak
Deanna Betteridge
2002
Shovel's Thompson
Michael Thompson
Judy Thompson
Eric Dawson
Sarah Dawson