2019 Ironman Curling Bonspiel News
We reached our goal of $15,000 , thank you to all of our donors. Congratulations to our 2019 Ironman Curling Champions;
"I Swept With Your Wife…"
Brent Farguson, Jack Lavallee, Glenn Henderson, Brian Melville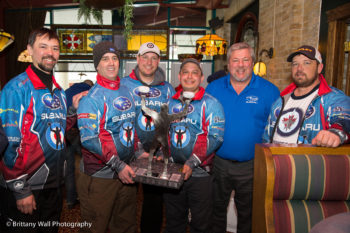 The team "I Swept With Your Wife…" are now repeat champions and were one of our Super Duper Sponsors for 2019.  They are our first repeat champions since 2010 when the Hoovers had won the championship 3 years in a row in 2008, 2009 and 2010.  This year's champions had to get past team Drawson – Eric Dawson, a 3 time Ironman Champion and co-founder of the event, in the semi-final and then The Rod Peelers, a long time experienced Ironman team, in the final game.  Our 2019 champions have won custom made Ironman Curling jackets valued at over $600 from Dynasty Curling Apparel, one of our Super Sponsors.
Congratulations also go to all the winners in the minor events.  We call the event Ironman for the courage and spirit teams show for curling in tough winter conditions.  Our final team count was 55 curling teams in the Championship division, 4 curling teams in the Recreational division and 3 curling teams in the Fundraising division. Thank you to everyone that donated team prizes for the Sunday closing ceremonies.
This year we set a new organization record for the most money raised in one year.  Thank you to the teams for soliciting pledges and to everyone who donated to a great cause. This year's bonspiel has raised $14,720 for the Heart & Stroke Foundation, bringing our 18 year total to $116,799.  All tax donations over $20.00 will receive a tax receipt from the Heart and Stroke Foundation.
Congratulations to the 3 top fundraising teams for 2019. Each team has won the coveted Subaru Silver Corn Broom.
1. Team MAHCP $3,201.00
Tim Smith
Bob Moroz
Nancy Kleiman
Christine Strike
Jake Giesbrecht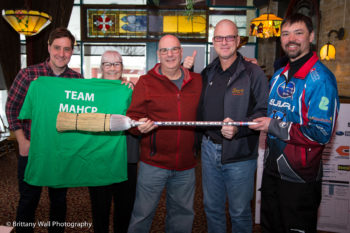 2. I swept with your wife… $1,655.00
Brent Farguson
Jack Lavallee
Brian Leville
Glenn Henderson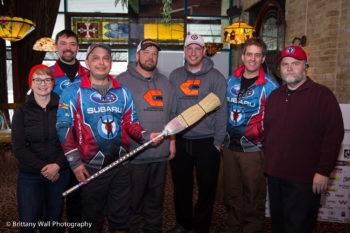 3. Computer Jones Hackers $1,450.00
Grant Magnusson
Lorne Goodbrand
Shea Christensen
Wally Christensen
Warren Cook
-coach- Dean Jones (because those who can't…)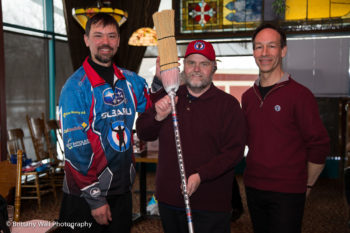 A big thanks to all of our sponsors and the many volunteers that made this year a huge success.  We are a success because of the dedicated volunteers and great support from the business community.  You made a huge difference and we are grateful for your support.
Our next bonspiel is February 7 to 9, 2020 when we will be celebrating our 19th year.  Reserve this date, book your travel plans to Winnipeg when we strive to continue to be the largest outdoor curling bonspiel in Canada.  Hurry Hard!