2019 Ironman Curling Honouree Michael Kleiman
Ironman Outdoor Curling Bonspiel is not only a time for great fun and activity but a time to recognize outstanding, extraordinary individuals that just happen to have heart disease. Through sharing stories each year, we hope that we help educate Manitobans, educate Canadians and bring a little bit of health and wellness to everyone!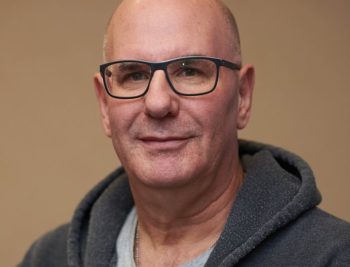 This year's Ironman Outdoor Curling Bonspiel honouree is a husband, a father of three, a dog lover and owner, a CT Technologist at HSC Winnipeg and a proud member of the community. Our honouree is Michael Kleiman and he unfortunately has Premature Coronary Artery Disease.
Meeting Michael for the first time the state of his heart condition would never be revealed. He enters the curling club with a smile on his face; however, he has also spent several hours on bedrest due to constant angina just so that he can muster that smile and be present for the little things in life.
Family genes dealt Michael a bad hand to say the least. In 2005 he had some chest pain, but he also couldn't breathe and couldn't walk. His cardiologist had him complete a stress test that he laughs about now, as he failed miserably. That stress test gave the results that he was a heart attack waiting to happen and was told that within 53 days surgery needed to happen. After a quadruple bypass Michael's tale should end.
Michael realized that the distance of 50 feet was going to be a powerful figure in his life. Ironman's curling sheets for instance are 150 feet in length, which to a healthy person is a very short distance. For Michael in 2016, in 2017 and again in 2018 whenever he got to the point of not being able to walk that short distance, he knew he was in trouble.
In 2016 the interventional cardiologists found a lesion in his radial bypass that had an 80% blockage, they inserted a stent. In 2017 again couldn't walk, went to lay down after an Annual General Meeting for his Union (MAHCP) and felt as though there was an elephant sitting on his chest. Within 24 hours he had an angiogram and it showed another lesion downstream in the radial bypass and had another 80% blockage.
2018 he laughs now, life repeats itself, another angiogram; however, the 2017 inserted stent is now 80% blocked after only six months and it's fruitless to repair. There is now also another lesion, another blockage at 90% in the left anterior descending artery.
The options – another bypass that is very risky or a less invasive procedure called Chronic Total Occlusion, Percutaneous Catheter Insertion (CTO). He proceeds with the CTO in May and the interventional cardiologists successfully open up the 100% and 90% blockages that they place three large stents in his LAD. However, in August 2018 he still has heart symptoms, taking another look the three stents they added in May, the last stent has fractured and a complicated situation becomes even more complicated as a nick occurs, and the Doctors are forced to pull out due to bleeding.
Medications are keeping the symptoms at bay and Michael, unbelievably, can see the positive that at least he has good collateral circulation!
Now at 58 Michael is not capable of working as a CT Technologist and helping others. He does appreciate every day his amazing supportive wife. The support of his family, the joy that his dogs bring to his life. He is thankful to the Cardiac Refit Program though the Refit Centre that have helped with his overall health over the years.
Replacing the heart would be a logical conclusion to the uneducated; however, even after a quadruple bypass, two almost heart attacks, two full heart attacks, insertions of multiple stents, and angina every day the words out of Michael's mouth are "I'm not sick enough".
Michael is pleased to share his story in hopes that this year's Ironman Outdoor Curling Bonspiel raises the most money for the Heart & Stroke Foundation than ever before. It's his hope that new research can be funded to fix, as he says, his lousy heart and others like his. It's his hope that awareness of his story brings some treatments Winnipeg that are only available a select few other cities across Canada.
It is the hope of this year's Ironman Outdoor Curling Bonspiel committee that our honouree, Michael Kleiman, with one of the biggest hearts we've ever known has his hopes and dreams come true. Michael you are truly an Ironman!