2020 Ironman Curling Honouree John Candy
Each year since 2002, The Ironman Outdoor Curling Bonspiel has continued to raise financial support for the Heart & Stroke Foundation of Canada. Here at Ironman we also feel it's important to raise awareness by recognizing an outstanding individual who has led an extraordinary life, yet was touched by heart disease. For the 2020 bonspiel our Honoree is Mr. John Franklin Candy.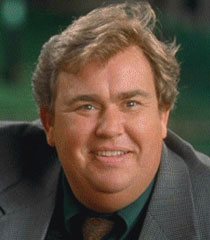 John was born on October 31, 1950, in Newmarket, Ontario. His father was Sidney James Candy and his mother was Evangeline (née Aker) Candy. John went to high school at Neil McNeil, studied journalism at Centennial Community College, and went to McMaster University for higher education.
John Candy and his wife, Rosemary Hobor, had two children, Christopher Michael and Jennifer Anne.
He was an actor and comedian, becoming famous as a member of Second City TV, and a variety of comedy films as well as dramatic roles in several films. John Candy was a co-owner of the CFL Toronto Argonauts from 1991 until his death, and the team won the 1991 Grey Cup under his ownership.
In 1994, while on vacation from film production, John died of a heart attack in Durango, Mexico, on March 4, aged 43. There is a family history of heart attacks suffered by relatively young men, and at the time of his death he was under a significant degree of stress throughout the making of the Wagons East feature film. His funeral was held at St. Martin of Tours Catholic Church in Los Angeles. On March 18, 1994, a special memorial service for Candy, produced by his former improvisation troupe, the Second City, was broadcast across Canada
We've ambitiously set our Ironman Curling Bonspiel fundraising goal this year at $25,000 to align with the 25th anniversary of John Candy's passing, and we hope the generosity of all of our participants and sponsors will help us realize that goal in support of the Heart & Stroke Foundation of Canada.
John Candy's Filmography is remarkable, the smiles he generated are uncountable.
Film
Television