2023 Honouree Trent
2023 Honouree Trent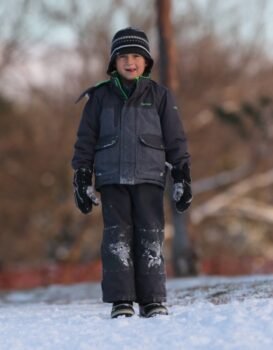 Words from Trent's mother, words from the heart –
How special it is to be curling in honour of our middle child Trent. We have participated in the Ironman Outdoor Curling Bonspiel several times over the years because we love to be outdoors, we love to curl, and we love to support the Heart and Stroke Foundation. This event has become even more meaningful to us since Trent was born with complex congenital heart disease, including a hypoplastic right ventricle.
During pregnancy, we learned that Trent would require either a heart transplant after birth or a series of palliative surgeries over several years to reconfigure his heart and circulatory system. When Trent arrived on his due date in the spring of 2016, he was taken by air ambulance to the Stollery Children's Hospital in Edmonton, AB where he had his first open-heart surgery. After a two-month stay in the hospital that included some highs and lows, we were able to bring Trent home. We returned to Edmonton when Trent was seven months old for his second surgery, the Glenn procedure. The third and final surgery in Trent's staged reconstruction, the Fontan procedure, was performed shortly before he turned four. Trent now has "Fontan circulation," which means that his heart functions like a one-sided pump with two chambers; essentially Trent is living with half a heart. It really is incredible!
Although there are challenges, Trent amazes us everyday. Trent is an active 6 year-old who loves to play with his siblings and friends, dance, ride his bike, golf, build Lego, do puzzles, and most recently has taken up curling!
On behalf of the committee, we are grateful and honoured to help raise funds in Trent's name.  This year's event will be extra special because of this.  We invite you to put in a team.  If you are not able to put in a team, please consider making a donation.  You can donate to Trent's team the "Curling Irons" All funds to the Heart and Stroke Foundation will be in Trent's name.  Let's do it for Trent!