Fundraising New Record and Ironman Champions 2020
Ironman Outdoor Curling Bonspiel proudly presented by Cambrian Excavators Ltd.
We are excited to announce we have raised $17,517.49 for the Heart and Stroke Foundation at the time of this writing. Individual donations continue to trickle in. A new bonspiel record.
The following curling teams had a huge part on the fundraising and were awarded the Subaru Silver Corn Broom.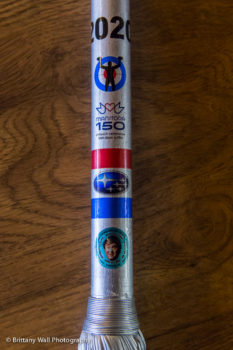 Top Fundraising Teams for 2020
Kelsey's Team $2,195.00
Manager Kelsey Sheedy
Players
Mathew Sheedy, Derek Micholson, Leigh Drabble, Tim Raffey, Patrick Sheedy
Scatter Shots $1,900.00
Players
Jennie Yang, Andrew Goertzen, Ryan Sparkes, Kaden Kujanpaa
Computer Jones Hackers $1,629.00
Manager
Dean Jones
Players
Wally Christensen, Lorne Goodbrand, Grant Magnusson, Warren Cook, Shea Christensen
The Great Outdoors $1,465.00
Players
Karen Glennie, Laurie Rerick, Jim McLaughlin, Lanaya Palmer, Dave Semenchuk, Vincent
Anderson
Everyone from the curlers, to the sponsors, to our volunteers and the general public donated to
this event. We are super grateful for their donations and efforts. It was a beautiful weekend.
We were grateful for the support and partnership with the Manitoba 150 Committee. All funds
will be donated to Heart and Stroke Foundation on behalf of the John Candy family. For
valuable research and awareness campaigns.
The Ironman Outdoor Curling Bonspiel proudly presented by Cambrian Excavators Ltd.
Championship game was played at 1:00 PM CST on Memorial Park in front of the Manitoba
Legislative building at Broadway Avenue, Winnipeg Manitoba Canada. Doing something that
has never been done if our Province 150 year history. We made curling history.
The team of "Hack Job" won the Championship game and are the new Ironman Curling Champions for 2020.
They had to been 2 time champions "I Swept With Your Wife…" looking for their 3rd
championship in a row.
The game was a see saw event and in the last end, "Hack Job" was down 1 points in the final
end, to tie the game and send it to an extra end. "Hack Job" won the game 6 going undefeated
for the trophy, winning the last game in 7 ends. They win custom made jackets from Dynasty
Curling Apparel and their name on the prestigious trophy.
The Event raised over $17,517.49 for the Heart and Stroke Foundation and brings the total to
over $151,000 during the 19 year history of the event.
60 teams took part in the event over the weekend. 56 teams in the championship team and 4
teams in the Recreational division. There were teams from California, New Zealand who also made it
to Sunday playoffs. Special Olympics Team Hack Attack played one exhibition game on the ice.
We would like to once again thank our main sponsors Cambrian Excavators and Winnipeg Biz
Downtown for their generous contributions, all in support of the Heart and Stroke Foundation.
We can't say enough about the great teams and volunteers that put on this amazing event.
See you next year when we celebrate our 20th Year and go for 104 curling teams!
For more information, please contact us at (204) 831-8816 or 1-888-831-8816.
www.ironmancurling.com or info@ironmancurling.com