Tankard Trophy Coming to Manitoba
Ironman Curlers and Curling Fans,
We are proud to announce that the Canadian's Men Curling Championship trophy is coming to Manitoba.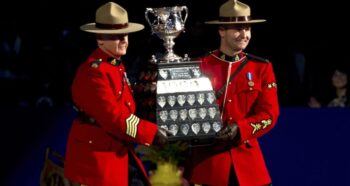 The trophy will be on display at the Ironman Curling event on Saturday February 5, 2022.
The event is open to the public.  People may have their photos taken with the trophy.
It is an honour and privilege for our grassroots volunteer community to be chosen by Curling Canada to host this trophy.
Part of the days events includes curling for charity.  The event is on the Red River accessible via the Redboine Boat Club at 20 Churchill Drive, Winnipeg, Manitoba.  TSN will be on site to film the curling sheets to capture the action for Curling Canada Day footage.  It's almost never to late to put in a curling team and help raise funds for charity.
Our thanks to our title sponsor Nirvana Waterworks for making this a reality.  We are grateful for all of their support and the sponsors who make things possible.  Part of the proceeds will go to HOPE worldwide Canada and to The Heart and Stroke Foundation.  Please make a donation today to help raise funds for these great causes.