Become a Sponsor
Our ultimate goal is to create a fun winter activity for participants to enjoy and to raise money for charity.
As you know, it costs money to run our event year-after-year, so we rely on our sponsors & advertisers' generosity to cover our costs so that every dollar raised can go directly to charity.
Advertising Opportunities
Scoreboard Banner — up to 8 available
(Maximum dimensions 6'x2')
Showcase your brand through our Scoreboard Advertising! As participants and spectators gather to enjoy the thrilling sport of curling amidst the breathtaking outdoor setting, your message or logo will be prominently displayed above the curling sheet scoreboard. 
This prime advertising space ensures maximum exposure for your business, reaching a diverse and engaged audience.
Corner Guard Advertising — up to 32 available (4 per sheet)
(Maximum dimensions 3'x2')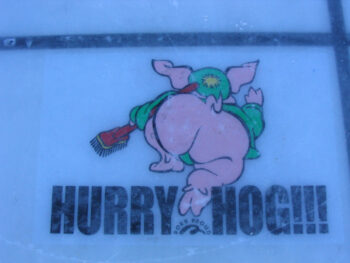 By partnering with us, you can prominently feature your business on the hogline where players release their playing stones. Your logo or message will be in the direct line of sight for competitors and spectators alike, ensuring that your brand makes a powerful impact. Align your company with this beloved winter sport and connect with a dedicated and enthusiastic audience. 
Don't wait; reserve your spot for Hogline Advertising today and seize the chance to be a standout sponsor at this thrilling event!
Button (T-Line) Advertising
—
only 16 available positions
Dimensions: 12" round
Capture the spotlight with our exclusive Button (T-Line) Advertising opportunity at the Ironman Outdoor Curling Bonspiel! Your brand can take centre stage on the curling sheet, where the button and T-line serve as pivotal points for every shot. By placing your logo or message in these key positions, you'll command the attention of both players and spectators throughout the event.
Secure your spot for Button (T-Line) Advertising now and ensure your presence at this thrilling competition!
Rock Handle Logo Placement
—
per set of 8 rocks
Get in the hands of the players with our Rock Handle Advertising opportunity at the Ironman Outdoor Curling Bonspiel 2024! By placing advertisements on the handles of the rocks used in the competition, businesses can directly engage with our niche community, creating a memorable and targeted brand exposure.
Advertising on rock handles not only supports the event but also provides a strategic marketing avenue for your business to connect with an engaged and captivated audience.
All advertising opportunities also include:

Your logo on bonspiel draw board

Your logo on table toppers & brochures

Your logo on our website homepage & sponsor page

Social media mentions & tags

50% off a 4-person team registration
Sponsorship Opportunities
Beer Garden Sponsor
— 
only one available
With this exclusive opportunity, your business can take centre stage at our bustling bar area, where participants and spectators gather to socialize and celebrate the thrilling curling action. Your brand will be prominently featured on signage, drink menus, and promotional materials, ensuring that every refreshment enjoyed by our enthusiastic crowd is associated with your business. 
This sponsorship not only offers excellent exposure but also positions your brand as an integral part of the event's festivities.
This unique opportunity also includes:
Unlimited social media mentions and tagging before, during, and after the event*

Your brand mentioned or shown during media interviews

Your logo on bonspiel draw board

Your logo on table toppers & brochures

Your logo on our website homepage & sponsor page

4-6 person team registration included
*We will work with your social media & marketing team to ensure your brand guidelines are adhered to and your brand is correctly represented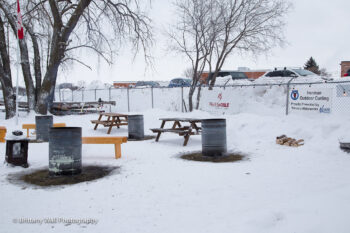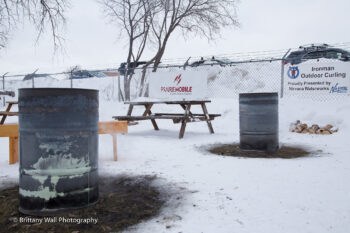 Prize Donations
A successful outdoor curling bonspiel hinges on more than just skill and camaraderie; it's also about celebrating the spirit of competition and sportsmanship with fantastic prizes. At our event, we believe that the thrill of victory is enhanced by the prospect of winning exceptional prizes, and we're always on the lookout for generous contributions to make the bonspiel experience unforgettable.
By offering enticing rewards to our bonspiel champions, you're not just supporting a fun and competitive curling event; you're also contributing to the growth of our curling community and helping us foster a sense of togetherness among players. Your generosity will be recognized and celebrated, and you'll have the satisfaction of knowing that your contribution has helped create lasting memories for curling enthusiasts.
So, if you have a great prize in mind, or if you know of someone or a business that would like to contribute to our outdoor curling bonspiel's success, please don't hesitate to reach out to our Prize Team by emailing prizes@ironmancurling.com or by calling 204-831-8816 ext. 6 
Contact Us
Join us in making the Ironman Outdoor Curling Bonspiel a memorable and successful event for all involved. Don't miss this chance to forge meaningful connections and boost your business's visibility in a unique and thrilling setting. Contact us today to explore the diverse advertising and sponsorship opportunities available and to secure your place in this winter extravaganza.
If you are interested in any of these advertising and sponsorship opportunities, or you have a unique partnership idea, please contact a member of the Ironman Outdoor Curling committee at sponsorship@ironmancurling.com or 204-831-8816 ext. 5
Your support will make a significant difference and be a valued part of our event's tradition. Together, we can continue to make our bonspiel not only a fantastic sporting competition but also a celebration of generosity and goodwill.