Tribute to Kevin Wiebe
Tribute to Kevin Wiebe co founder, curler, family man and friend.
In 2001, Kevin Wiebe and Eric Dawson put the time and energy to make a dream of curling outdoors in Winnipeg, Manitoba, Canada a reality.  It took hard work, creativity and gumption to make it happen and it did.  In 2020 Kevin Wiebe passed away leaving a legacy in the community.  He impacted everyone he interacted with from his family, his professional sales career, to the curling community and his friends.  This page is a tribute to the person Kevin was.  On February 7, 2021, the Ironman Outdoor Curling organization recognized the hard work and person Kevin was.   The following are some of the moments from that day and the speeches given in Kevin's name.  Thanks to Kristen, Kevin's wife and love, we also helped raised funds for HOPE worldwide Canada Summer Max Day camp for the first time as well at the Heart & Stroke Foundation.  During a world wide pandemic we were unable to have organized curling so instead we had exhibition ice, one of Canada's largest crokicurl and fundraising.   Manitoba's are know for their volunteer spirit and generosity to help their fellow neighbours.
We are honoured to say that the Kevin Wiebe Team was the Top Fundraising team that weekend and the team was awarded with a plaque on the Ironman Outdoor Curling trophy. Thank you to all the volunteers, partners and teams that helped to make our 20th anniversary and memories of Kevin extra special.
Congratulations to our new Ironman Outdoor Curling – Top Fundraiser Champions!
"Kevin Wiebe's Team"
They have raised the most funds for charity. The running joke with our committee members was that no matter how hard Kevin played in the bonspiel, another committee member would knock him out of the tournament.
There was no stopping the Wiebe team this year! Congratulations, Krista and Caitlyn!
If you never got a chance to meet Kevin, we hope you will take the time one day to curl and play in an Ironman Outdoor Curling event.  By taking part you will get to know what kind of person Kevin was and enjoy that spirit that comes from playing outdoors.
Thank you to our sponsor, Bodegoes Restaurant, for paying the service fees on donations. Thanks to them, 100% of the donations in 2021 are going to the charities.
A special Thank you goes out to Amanda Nash from the Heart & Stroke Foundation and Manitoba 150 for being part of our event. Here are few words from Amanda:

Join our fight to beat heart disease and stroke at heartandstroke.ca

February 13, 2021  20th Anniversary, Ironman Outdoor Curling

Our hearts go out to Krista and all the family, friends and colleagues of Kevin Wiebe, who we are honouring today. We have been so fortunate to have a man like Kevin, who dedicated so much time and energy for his community! His legacy will live on through all of us and the amazing contributions he's made here in our city!

It's my privilege to be here today to deliver our heartfelt thanks in person. Ironman Outdoor Curling, and all the people who are part of it, have shown remarkable dedication and support for Heart & Stroke. And again, that is a testament to Kevin's leadership and vision, as the founder of this one-of-a-kind event. Over all these years, this event has raised close to $160,000 dollars for Heart & Stroke – there are no words to express our gratitude.

I'd like to especially thank Michael, the Ironman Outdoor Curling Committee, and Cambrian Excavators for sponsoring this event. In so many ways, this is not how we had envisioned the 20th anniversary, but here we are… on the big ice of the Red River… in the freezing cold… celebrating a remarkable man, and a beloved event that has become a tradition in our city. Winnipeggers are the best!

We're all sorry that we didn't get to complete the tournament this year. And yet, this dedicated group of friends, colleagues and curling enthusiasts carried on with fundraising – what an extraordinary group of people. I'd like to give a huge shout-out to Michael and the organizers for opening up this space this weekend, so that families could get out and throw their milk jug rocks, being active and having fun. It's exactly what Heart & Stroke encourages people to do for their heart health, and it's such a fitting way to salute Kevin, Ironman Outdoor Curling, and everyone who has taken part to make a difference for our community.
We look forward to next year – thank you so much! Stay safe and healthy, and let's continue to take care of one another and our hearts.

With great appreciation,
Amanda Nash, RD
Health Promotion & Nutrition Manager, Manitoba | Heart & Stroke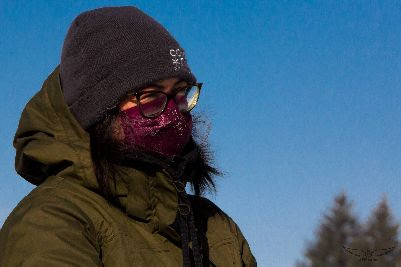 Another special Thank you to Kimberlee Potter from HOPE worldwide Canada, Co-Country Director for being part of our event this year. Here are few words from Kimberlee:

Good day everyone,

I am grateful for this opportunity to be here today to commemorate Kevin Wiebe at a sporting event he put so much heart, time and energy into for so many years. Ironman Outdoor Curling represents so much of Kevin's passions…curling, building community and charity.

For as long as I've known Kevin, he has been passionate about curling and has wanted to share his love of the sport with anyone and everyone. It's a big part of why he and Eric Dawson dreamt of creating of such an incredible tournament. And to have the Ironman Outdoor Curling Organizing Committee decide to hold this year's event in his honour and raise funds for a charity he was also passionate about really is the most fitting tribute.

Outside of Ironman Outdoor Curling, Kevin also put a lot of time into helping those in need and he put countless hours into volunteering with our charity, HOPE worldwide Canada. Kevin was one of our most passionate and hardworking volunteers. With his family, he travelled to Thailand to serve with one of our HOPE Volunteer Corps. He was always volunteering for all the behind-the-scenes work needed for our programs serving others and was the driving force behind our website and many of our promotional materials. In fact, in our Max Out Summer! day camp for youth in foster care, Kevin volunteered weeks out of his own schedule to ensure the camp was well run and the food was well made. He was one of our key organizers who ensured that the camp was such a success over the years.

I would like to thank Michael Thompson and the rest of the Organizing Committee for selecting our Max Out Summer! Day camp to be a charity program to support this year. We run the camp for children who are wards of Child & Family Services agencies, enlisting passionate volunteers to mentor and care for these kids. Almost all of our funding goes into providing these children with as many activities and opportunities as we can, providing fun, friendship and growth amidst the unique struggles they experience.

Thank you as well to all the donors and especially the teams who fundraised on behalf of the day camp and for honouring Kevin with their fundraising. As the representative of HOPE worldwide Canada, I am so touched by your generosity, your thoughtfulness, your passion for curling and most especially, for honouring such a dear friend and volunteer Kevin Wiebe today.

Thank you.

Kimberlee Potter
HOPE worldwide Canada Co-Country Director
Thank you to Krista Wiebe wife of Kevin Wiebe for being a huge part of our event and all her contributions this year. Here are few words from Krista

Thank you for this opportunity to share a bit about Kevin. Anyone who knew Kevin will vouch that he was a generous man – with his time, his money and his possessions. In fact when he was young – Kevin's  mom would get mad at him for giving away his toys… that was essentially who he was – he lived to give of himself to others. He was also passionate about learning new things – like cooking, photography, and fixing everything under the sun… and again the first thing he would want to do would be to share it with others – cook perfect burgers, frame a beautiful photograph for a friend's wedding, and help to fix whatever might be broken. I think Ironman Outdoor Curling was the perfect marriage of these things – sharing his love for curling with others and using his expertise and connections to create something new.

I think Kevin started curling when he was about 9 or 10 years old – it was a passion for him. He might have missed one MCA bonspiel in the 25 years we were together… and that was a disaster year – they just forgot to register. It was a love he shared with both of his parents as well and many friends who were like family. In true Kevin fashion he used his expertise to brighten other people's lives – putting on a learn to curl clinic for our friends, volunteering his time in countless ways, sparing for other teams. His dream was to make it to the provincials which he did – 3 times with Mark Lukowich – that was such a proud moment. I'm not exactly sure how the idea for Ironman Outdoor Curling came to be – Kevin and Eric would always come up with creative ideas – but I think it is a long and involved story that only Eric would know. It was probably the challenge of seeing if they could make it happen… and that they did! The first one was planned and executed in less than 6 weeks. I can't say I was surprised.

Over the years it just grew – real hacks, the trophy (the base was a donation of marble from someone he knew that made headstones), the prize machine, how to store and transport curling rocks for an ever growing event – somebody always know someone who would help – and who could say no to Kevin when he asked? There was always google and gumption in a pinch. It is really astounding how you have made this event grow so much over the years – I know he was very proud and pleased.

This past year was a challenging one. Kevin lost his mom in 2018, his dad in 2019 and he had to leave us just a few months ago. When we found out about the cancer we hoped he would have a few months and maybe even do a bit of ice fishing or come to this great event. But that was not meant to be. I do know he would have been touched to see the way you have honoured him – he was not much for fanfare but he loved his curling family and would have been touched to see how you are helping us fundraise for HOPE as well. Many of you were like family to him – so I want to thank you for your friendship to him and to our family over the years and for this special tribute to Kevin.

Krista Wiebe
Some of the other amazing highlights from the weekend
The top 3 fundraising curling teams were each presented with the Silver Corn Broom.
1. Kevin Wiebe' Team $3,015
Players Krista Wiebe, Caitlyn Wiebe and Michael Bayle in honour of Kevin Wiebe


2. The Sandbaggers $1,045.00
Players Gregg Melnyk, Beverley Squair, Keith Melnyk, Tammy Hannibal
3. Computer Jones Hackers $895.00
Manager, Dean Jones
Players: Shea Christensen, Wally Christensen, Lorne Goodbrand, Grant Magnusson, Warren Cook
Special Note: This team has achieved top donor status for 6-years running. Congrats, guys!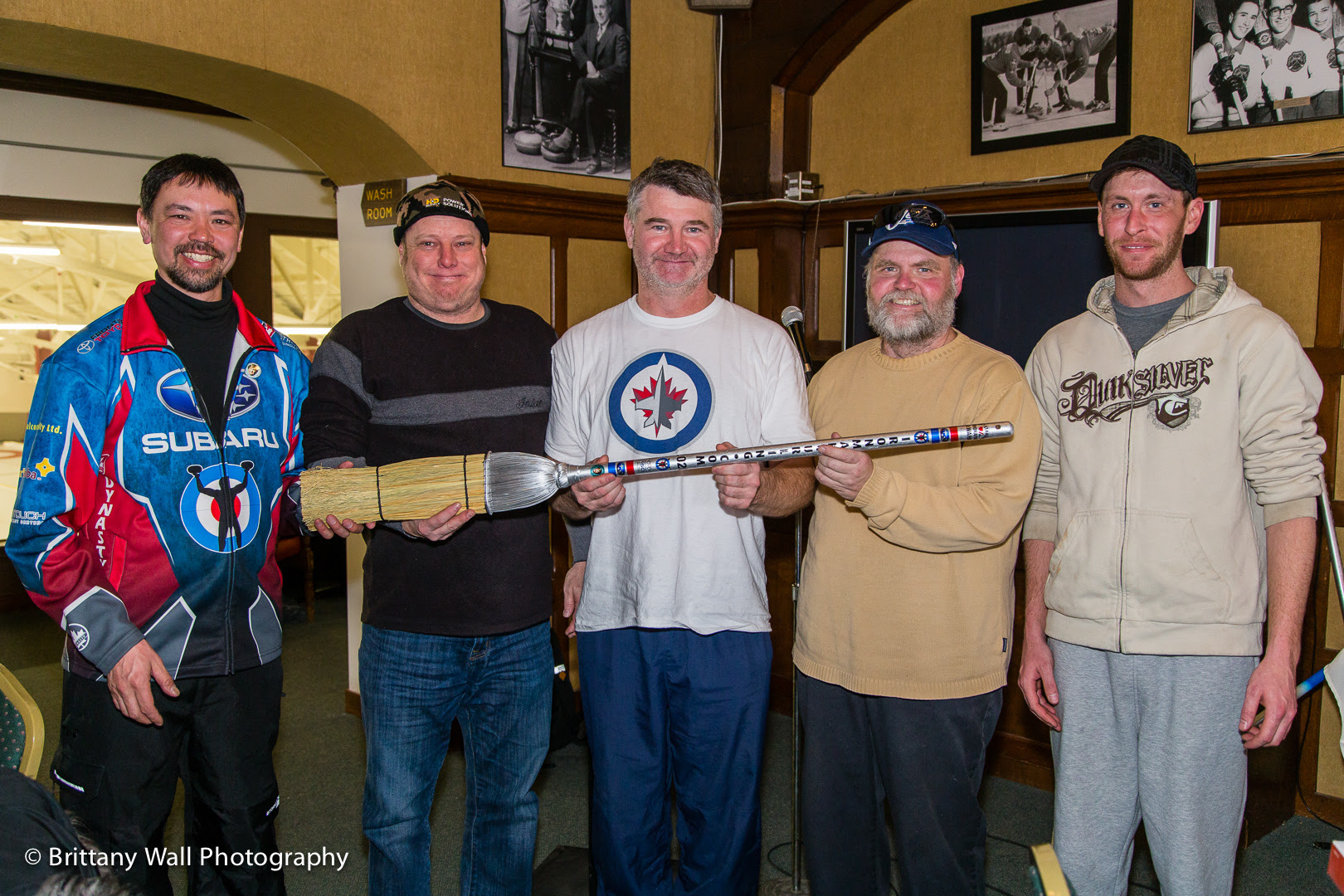 Thank you to our title sponsors Cambrian Excavators Ltd. for their amazing support. 
Super Duper level sponsors
Battlefield Equipment Rentals
Bodegoes Restaurants
Super level sponsors
Dynasty Curling Apparel
Computer Jones
Preferred Protection & Response Services Ltd.
EuroDesign and Graphics
Asham Curling
Friends of Ironman Outdoor Curling
HOPE worldwide Canada
Heart & Stroke Foundation
Manitoba 150
Redboine Boat Club
Thompson Rink Equip. Ltd celebrating 56 years in business
U-Haul Rentals
Prairie Mobile Communications
GNR Camping World RV Center
Curl Manitoba
Curling Canada
Timber-Tech Lumber Ltd.
Windsor Plywood
B.R.D. Specialties
King's Services
Coral Enterprises Ltd.
Kiwi Installations
Playall Awards
Modern Plate Caterers
JP Medina Photographer
We hope you and your friends can join us at the next Ironman Outdoor Curling event.  From all of us at Ironman Outdoor Curling, we will always miss you Kevin and are forever grateful for the chance to be part of this amazing adventure.